General Base Edit
A military base can be a miserable spot for soldiers torn from their homes and forced to engage in military exercises.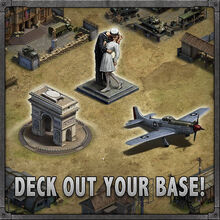 Your military base is a crucial component on the path to victory. It's the place where your soldiers grow and learn and attain a sense of unity in lands far away from home. In addition, it's a place where competent Generals manage resources, as well as import them from the outside world, for example from the supply ship .
Because the base is the one area you have total control over, it's important to make it reflect your personality as a General. When it comes to war games, much of victory is determined by psychology. Improve team morale with base decorations, which are updated every month! Have your soldiers run their army games in an area overflowing with culture! We even occasionally invite Generals to show off their super cool bases in a base showcase!
Liberators is fashioned to have a clean interface with clear instructions, captivating artwork, and overall intuitive design. It is crafted to both immerse the user in an authentic atmosphere and maximize gameplay flexibility. The following are some of the main components users will manipulate on their path toward victory. The map is only in Europe.
Community content is available under
CC-BY-SA
unless otherwise noted.